Madagascar - Land of Lemurs and Baobabs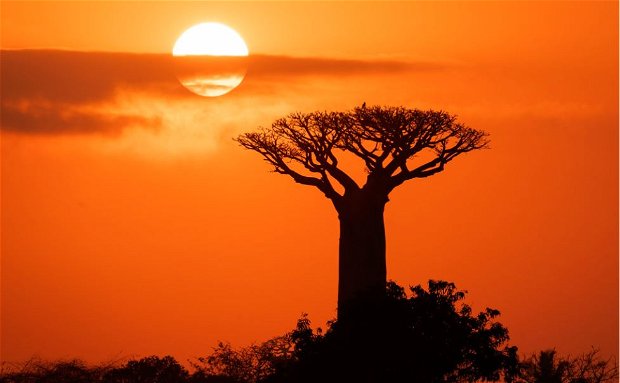 A former French colony, Madagascar is an island country in the Indian Ocean off the coast of East Africa, and the fourth-largest island in the world. Created by a prehistoric split from the Indian subcontinent, the native plants and animals evolved in relative isolation creating a biodiversity hotspot. Over 90% of the country's wildlife is found nowhere else on Earth.
Let's start this montage with the world famous Baobab trees! When I visited in the dry Fall season, they did not have any leaves but were still impressive as shown here relative to these three happy Malagasy dudes walking along the Allee des Baobabs.
 
Walking Allee des Baobabs - Matt Conti
  
Madagascar does not have Africa's big animals, but it is blessed with over 70 species of wonderful lemur – long-tailed primates endemic to the island. My favorite were the ring-tailed, shown below. We scouted the forests and found them jumping high in the trees. After days of hunting in the forests, we later came across "naturalized" islands, where they were more adjusted to humans (and much easier to find with a banana!).
Ring-tailed lemur - Matt Conti
Besides man, the lemurs only predator is the fusa, a nasty look cat. Sadly, the island's ecosystems and unique wildlife are being threatened by the encroachment of a rapidly growing human population and other environmental threats. 
Fusa - Neville Jones
 
In the rainforest camps, a nightly activity is to walk the trails and look for creatures that come out in the evening. This was a wild experience. Our guides would be turning over logs and leaves as all sorts of noises would be heard in the pitch black darkness. Eventually, we would have enough of the night walks and head back to the lodges and hope not too many of these little critters were in our beds.
 

Young frog in Andasibe rainforest - Matt Conti
 
I can take a certain amount of nature and bugs, but bring me to a city and the first place I want to go are the markets. Antananarivo (Tana, for short) is the capital of Madagascar and definitely ranks as having some of the craziest marketplaces where I have been. There were enormous stairs throughout the city where vendors would be lined up as far as the eyes could see under colorful umbrellas. The merchandise was right out of the 1970s, typewriters with missing keys, sewing machines, barrels of spices, beans and plenty of raw meats and produce.
Street fish market Matt Conti
As an island country, the beaches are a destination and we found a some very cool hideouts. No matter where you travel in the world, people are drawn to the shore for sunset and Madagascar was no different. With a readily accessible East and West coast, it's no problem to see both sunrise and sunset in one trip.
Beach Sunset at Morondava,Western Madagascar - Matt Conti
 
When you get to the eastern part of the island, the island becomes much more tropical with rainforests. Around the capital of Antananarivo, the highlands are temperate with paddy fields and grassy hills. The iconic baobab trees are found in the western Morondava region. Most of the population lives around the capital.
Here are some street images in the next gallery. Madagascar is a very poor country, but I found the people to be very friendly. As with any foreign city, I was careful and stayed with friends, but we did not have any problems walking around as the only tourists (and white people) in sight. The people seemed very happy to have their photos taken and did bother us (too much) for money.
French auto influence - Matt Conti
Lining up for the bus - Matt Conti
Sea of market umbrellas - Matt Conti
 
Madagascar's cuisine is traditionally based on rice, that are served with some kind of dressing, vegetables, meat and spicy seasoning. The dishes are usually flavored with garlic, ginger, onion or curry, whereas desserts are flavored with vanilla. I tended to avoid the water, but the lodges and hotels said it was safe.
The official currency of Madagascar is Malagasy Ariary (MGA), Madagascar is a huge place, the roads are bad and travel times long. Internal flights can be huge time savers. Private vehicles with a driver can be a helpful but dearer alternative. Police checkpoints are frequent (mind the traffic spikes on the ground). 
The image below was a race to get back to the Allee des Baobob before the sun was too high in the sky. The roads are so poor that it can take forever to travel even a short distance. Well, it turned out to be a blessing in disguise as I never made it, but using a 400mm lens, captured a super long compressed shot of the sun behind this one Baobob, complete with a little bird on top! It's one of my favorite all-time images. 
Baobab sunrise - Matt Conti
Will Madagascar take off as a new tourist hotspot? I doubt it. The new government was only four months old when we visited and locals were hopeful for an improving economy, but things still looked pretty rough. Agriculture and mining remain the largest industries. Ecotourism could provide some hope and has been gradually growing along with some its scenic beach destinations. 
 
Madagascar is most easily visited by air from Johannesburg and I was there immediately following my trip to Africa. Leading the expedition were famed travel photographer, Trey Ratcliff of the aptly named Stuck in Customs and Neville Jones of Experiential Travel. I have many, many more photos to process and I will be gradually adding more in the galleries.
Thank you for coming along on this montage of Madagascar!