Our most popular Masai Mara safari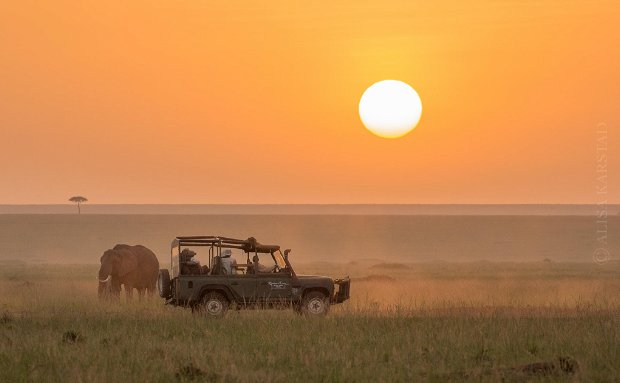 Nine days and eight nights of classic African safari that you will talk about for the rest of your life.
Start in a colonial-era homestead converted into a boutique hotel overlooking the magnificent Lake Naivasha. We found this lodge to be a perfect place to decompress and get into an African rhythm.
You've long heard about the Masai Mara, which with the neighboring Serengeti forms an enormous grassy plain traversed annually by millions of wildebeest and zebra during The Great Migration.
This is our most-booked itinerary.
Gallery
Itinerary
Loldia House is an ideal spot to relax, taste the pleasures of Kenyan country life and a great base from which to explore the Great Rift Valley.
Loldia House is an original Kenyan home set on Loldia Ranch on the shores of Lake Naivasha. Here guests can enjoy a gentle pace of life; relax by the pool, take in the views, head off on a game drive or indulge in a variety of treatments from our pool-side spa room.
Loldia House offers a choice of accommodation either in the old family house or in cottages in the beautiful grounds. In the main house, there is one en-suite double room. Close by are three other guest cottages (each housing two separate rooms, all en-suite), surrounded by pretty gardens and offering incredible views across the lake to the extinct volcano, Mount Longonot. Up on the hill is the specially built Top Cottage, which has three double bedrooms and its own sitting room with an open log fire, making it ideal for families or close friends travelling together. The vista from up here is stupendous!
Loldia is conveniently located for day trips to the famous Lake Nakuru National Park as well as excursions to the soda lake at Elmenteita, which is an important feeding ground for flamingoes and breeding area for pelicans. Nearby is Eburru Forest, home to the critically endangered mountain bongo. Loldia is the perfect place from which to begin or end your exciting safari holiday around Kenya.
Days 4-9
Governors Camp, Masai Mara
Governors' Camp is listed among the TOP TEN SAFARI LODGES IN AFRICA
for Travel+Leisure World's Best Awards 2020!
Governors' Camp nestles in the riverine forest that hugs the winding banks of the Mara River - it's waters teeming with bird-life, hippo and crocodile - in the heart of Kenya's Masai Mara National Reserve. Deliberately unfenced so as to create no barrier between the camp and this prime wildlife location, guests enjoy intimate and thrilling animal experiences even from the comfort of their tents!
Half the tents look out over the rolling golden grasslands of Africa's great plains, with views of herds of elephant, zebra and gazelle; the rest line the banks of the Mara River. The decked bar is right on the water's edge - the perfect spot to watch the wallowing hippos or a crocodile guarding its eggs. All guest facilities are under canvas, preserving the authentic, traditional safari atmosphere. Daily meals, in true traditional Governors' fashion, are enjoyed al fresco under the shade of the towering forest trees. At night, our guests are treated to the orchestral sound of the bush, while grazing animals brush up against their tents. We have a lovely spa tent here that looks out across the plains, offering a wide range of spa treatments; a relaxing way to spend some time in between game drives!
An all-time favourite for everyone, Governors' Camp is visited and re-visited by guests who find its consistent excellence, incredible location, personal style and family atmosphere a 'home' to return to, again and again. The camp has been awarded a Silver Eco Rating from Eco-Tourism Kenya due to our sustainable tourism practices.
Rates
From US$5433 per person sharing January, February, March, November & December
From US$4197 per person sharing April & May
From US$4646 per person sharing June
From US$6466 per person sharing July & October
From US$7345 per person sharing August & September
Subject to availability.