Mana Pools Photo Safaris 2023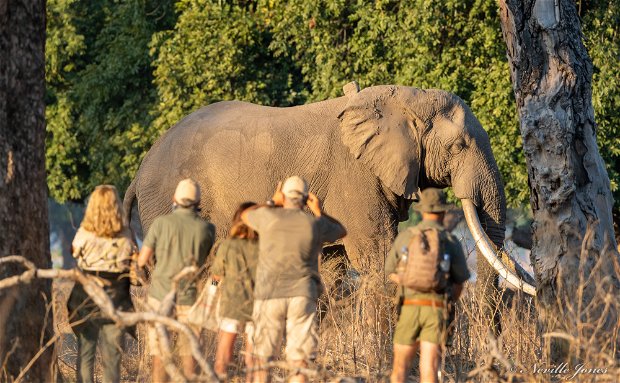 Rather than rushing around the bush with a species checklist, we'd rather linger a little longer with the subject. Waiting for Cartier-Bresson's "decisive moment" or Maisel's "gesture" takes patience. A photo of a pride of sleeping lions can be a yawn. But capturing that moment when the old male snarls at his playful cub who just woke him by pouncing on his tail is priceless.
Most photographers dream of indulging their passion in Africa at some point in their photographic journey. 
To spend quality time with iconic wildlife and landscape subjects in the company of like-minded people is a rare privilege.  The opportunities provided by this photo safari are even rarer.
Where
We've chosen the exceptionally beautiful and abundant Mana Pools as the location.  This has been a protected non-hunting area since 1952.  The game reserve was established in 1963 and the 287,000 hectare National Park declared in 1975.  The park, along with the adjacent Sapi and Chewore safari areas was declared a UNESCO World Heritage site in 1984.  The inscription opens with "In this Park on the banks of the Zambezi, great cliffs overhang the river, sandbanks and wide floodplains in a valley little modified by man. The area is home to a remarkable concentration of wild animals including elephants, hippopotamus, leopards, cheetahs and buffaloes. An important concentration of Nile crocodiles is also found in the area."  We have little to add except that we've seen plenty of other species there, including various antelope and their largest predator, lions.
For the authentic African experience, we stay at Camp Mana where all the tents look out across the Zambezi towards the towering escarpment running along the opposite riverbank.  From your tent, you can watch the sun rise over the river. Then, at the other end of the day, you can sit in the lounge to enjoy sundowners.  More likely though, you'll join us on a drive to some special spot we've found for you to photograph these special moments.
What you'll do
Photographers travel and experience things differently.  You know this.  Rather than rushing around the bush with a species checklist, we'd rather linger a little longer with the subject.  Waiting for Cartier-Bresson's "decisive moment" or Maisel's "gesture" takes patience.  A photo of a pride of sleeping lions can be a yawn.  But capturing that moment when the old male snarls at his playful cub who just woke him by pouncing on his tail is priceless.
Photographers would rather be out before sunrise to capture the first rays lighting the clouds and then hilltops.  They'd rather capture the sun streaming horizontally through the forest between the horizon and the browse-line.  The bleaching light of the overhead sun is less interesting, unless that is the look you're going for.  And that is an important point about this photo safari.  We're not locked in to a specific style or look or schedule.  The participants set the tone.  If you have a style you want to explore, we'll help you do that.  If you haven't developed your own style yet, we'll help you explore a few.  We'll explore directions and angles that you prefer, or if you're willing, some that you might not have tried.  Indeed, that has been Neville's experience.
On his first few safaris, Neville noticed that most guides placed their vehicle between the sun and the subject.  Just as they've been doing since Kodak.  But he thought that his daughter's (also a professional photographer) best photos were taken towards the sun.  And he knew that Rembrandt lighting, which also works well in wildlife photography, uses side lighting.  Photographers not only want to linger, they want to be in a different place.
In addition to light direction, quality and colour we'll explore some of the other fundamentals of photography such as composition and technique.  We'll talk about the Rule of Thirds and why it isn't a "rule" but good to understand.  We'll talk about shooting modes and challenge the idea that "professionals always shoot in manual mode".  NB: We don't teach you how to operate your camera.  We assume that if you decide you want to try shooting in aperture priority mode with auto ISO, you know how to do that.
When
This is possibly the most unique aspect of this photo safari; you can start any day between 19MAY2023 and 01JUL2023.   You'll then spend five nights in Camp Mana with us.  Then you'll fly back to awesome Victoria Falls for two nights of self-guided fun in this popular tourist destination, perhaps even practicing some new skills or techniques.
The photo safari is neither hierarchical nor linear.  You can join any day.  By the time you leave, you'll have covered all the topics and visited all of the best locations in the Mana Pools area.
Who we are
Your two principal hosts are the camp owner, legendary guide, Steve Bolnick, and the owner of Experiential Travel, awarded photographer Neville Jones.
STEVE BOLNICK
Steve is recognised as one of southern Africa's outstanding safari guides. He grew up with a deep love for the African bush and has spent the past 30+ years living and guiding in southern Africa.  He has conducted research safaris for the WWF, and has initiated community conservation projects in Zimbabwe and South Africa. He is a qualified guide trainer and assessor, has hosted Big Screen actors on walking safaris, has featured in a wildlife documentary for Belgian television and was the contributing editor to "The Guide to Exploring Victoria Falls".
NEVILLE JONES
Neville has been planning and leading safaris, including photography safaris, in Africa since 2007.  He has been on more than 120 safaris in more than a dozen countries.  He has a B.Photo (Photojournalism) and has won many awards in international photography competitions.  His work has hung in galleries in the UK, USA and Australia.  He is highly motivated by sharing the surprising natural beauty and wisdom to be found in Africa.
​Who you are
This photo safari is clearly designed for photographers.  We accommodate all levels of experience, provided that you know how to operate your camera, as previously mentioned.  Your camera can be anything with any type of lens.  We don't say things like "you must have a 500mm lens".  Of course, if you want to fill your frame with an elephant eye, you probably will need that.  But to get a photo of Boswell (a well-known elephant) standing on his hind legs reaching up into the trees with his trunk, 500mm is way too long.  A great photo of him doing that can be made with a phone camera.  Indeed, we have had guests who use their own eyes like photographers use cameras.  They too would rather linger, to learn something about the subject's behaviour.  This photo safari is perfect for them also.
If you're an experienced photographer who just wants to be taken to photogenic places chosen by a photographer, for photographers, then we'd love to have you on board, too.
If your partner wants to join the safari and prefers the cadence of a "normal" safari, then talk us when booking and we'll put them in a different vehicle.  
Additional experiences
Although remote and wild, this part of Africa has many life-changing experiences to offer.  One that we have offered in the past is a two-night walking safari in Chitake Springs.  This is in a very wild part of the park where guests are on foot, observing for example, lions stalking buffalo in the dry river bed near the springs.  This option can only be taken after the stay in Camp Mana.
There are many other options that are readily accessed from Mana Pools, including the equally famous Hwange National Park.  Talk to us about what interests you.
Is it safe?
In a word, yes.  Neville has been taking people on safari in Africa since 2007.  More significantly, Steve has been a professional safari guide for more than 30 years and is a legend in this part of the world.  He is called upon to teach and assess other guides.  There is nothing cavalier about these guys.  They understand the bush and the wildlife and have some very strict rules and procedures to protect you.  Despite this being a photography safari, no photo is worth getting hurt.  We've never had an injury or medical evacuation for any reason.  We plan meticulously and work hard to maintain that record.
Gallery
Itinerary
Day 1 - 5
Mana Pools National Park
Upon arrival at Victoria Falls International Airport, you'll pass through Immigration and Passport Control.  You'll present your visa letter and a visa will then be placed in your passport.  Be sure to check the dates on the visa sticker before you leave the immigration officer's desk.
Collect your luggage and look for a representative of the airline (Mack Air) that will fly you to Mana Pools.  In the unlikely event that the representative doesn't find you, proceed to Mack Air passenger lounge in the main hall of the airport after you leave the arrivals hall.
You have a 2hr 15m flight to Mana Pools in a Cessna C208 Grand Caravan.  This is the workhorse aircraft of the African outback.  It is a turbo-prop, which means that the propeller is driven by a jet engine.
At Mana Pools airstrip, you'll be met by your driver who'll take you on a drive through the African bush for an hour or so to Camp Mana.  Have your camera ready, the bush is unpredictable.
When you arrive in camp you'll meet both the camp owner, legendary guide Steve Bolnick and your photography host, Neville Jones.  They will discuss the basics of camp life and this includes a safety briefing.  Neville will talk with you about your objectives for the photo safari.
The camp and the staff are very adaptable but a typical day will go something like this:
Pre-dawn wake up call
Coffee or tea and light snacks in the mess tent
Depart camp before sunrise
First photo mission for the day.  The actual mission will depend on your goals, recent wildlife sightings and the quality of the light.  There is often a beautiful blue light in the Albida forest that you simply must see.
Return to camp for breakfast
Downtime.  This is usually a good time for your digital housework, downloading, backing up, recharging, and reviewing.  Neville will be in the lounge ready to discuss all matters photography.
Lunch
Photo sharing and critique/discussion in the lounge.  This is optional.  Some people don't like to do this, while others relish it.  It's entirely up to you.
Afternoon tea in the mess tent
Second photo mission for the day.  This will end a little before or after sunset.
Dinner in the mess tent
There are some night photography opportunities but movement around the camp at night is strictly with an escort only.  There are no fences here.
At the end of your photography safari, you'll be transferred to Mana Pools airstrip for your charter flight back to Victoria Falls.  You'll be met by your driver as you exit the arrivals area.  They will drive you to your hotel in Victoria Falls.
Your hotel is in a conveniently central location.  From here you can walk to the falls or into town.This is the self-guided part of your holiday, with camera in hand.  Talk to us about the options.  As a photographer, you might find the various galleries interesting.  The whole area here is very safe.  The many police on the streets are trained to help tourists and are very informative.  You can be active as you wish here.  Or you may wish to simply relax on the restaurant terrace of your hotel and watch the sun rise through the mist of the falls.
Note that Victoria Falls and the town of the same name is in a National Park.  Wild animals, including elephants and buffalo can and do wander the roads.  These species are exceedingly dangerous and must be avoided if you're on foot.  It is inadvisable to walk between your hotel and town after dark.
On your final day you'll be transferred to Victoria Falls International Airport for your flight home.
Rates
US$4543 per person twin/share basis for seven nights (19MAY23-30JUN23)
US$5397 per person single basis for seven nights (19MAY23-30JUN23)
US$5544 per person twin/share basis for seven nights (01JUL23-13JUL23)
US$6279 per person single basis for seven nights (01JUL23-13JUL23)
INCLUSIONS
Accommodation for five nights at Camp Mana on Full Board basis
Accommodation for two nights at Ilala Lodge, Victoria Falls or equivalent on B&B basis
Participation in photography workshop during the Camp Mana stay
Limited laundry at Camp Mana
Flight flight Victoria Falls to Mana Pools
Flight from Mana Pools to Victoria Falls
Transfers between Victoria Falls Airport and hotel
Limited bar drinks at Camp Mana, eg local brand beer, wine and some spirits
Two excursions per day in Camp Mana
EXCLUSIONS
Airfare from your home port to Victoria Falls International Airport and return
Lunch, dinner and drinks at Ilala.  This is so you can explore the many dining options here.
Passport and visa expenses
Travel insurance (this is compulsory)
All items of a personal nature
All "recommended" and for "information" activities
Anything not mentioned herein