Iconic Kenya 28Jul - 5Aug 2022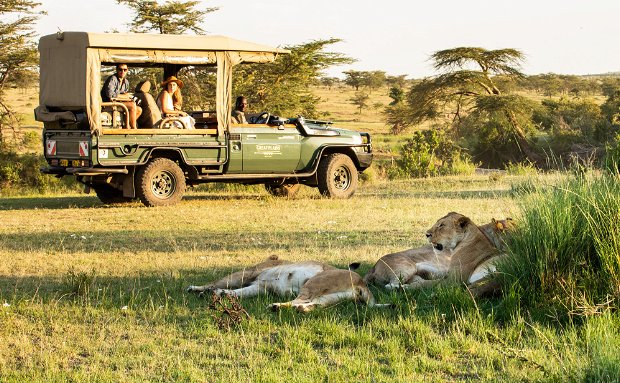 Explore the best of Kenya, including the Maasai Mara in this eight night, nine day itinerary tailor-made for guests of Experiential Travel.
"I had a farm in Africa at the foot of the Ngong Hills. The Equator runs across these highlands, a hundred miles to the north, and the farm lay at an altitude of over six thousand feet. In the day-time you felt that you had got high up; near to the sun, but the early mornings and evenings were limpid and restful, and the nights were cold."
If you're a fan of Karen Blixen, you'll recognise the opening lines of her auto-biographical Out of Africa.  From your 860 sqft suite at Hemingways you will have a view of those same hills.  The luxury five Star boutique hotel is in the Nairobi suburb of Karen, named for the author and just 2 minutes drive from her 1912 house that is now a museum.
Your next stop is Ol Donyo lodge.
"I sat on the logs that surround the hide at ol DonyoLodge, listening to the elephants rumbling nearby. It was almost a meditation, and I thought, wait, maybe we should create a meditation and soundtrack like this, rather than that canned music you hear when you have a Great Plains Lifestyle massage! That is when the elephant touched my leg with his trunk!"  says Dereck Joubert.
Dereck and Beverly Joubert, the famous filmmakers and photographers are National Geographic Ambassadors and the founders of Great Plains Conservation, which runs Ol Donyo.
Wedged between Kenya's Tsavo and Amboseli National Parks in the heart of the Chyulu Hills, the lodge, honed from the ancient lava rock that spewed out of Kilimanjaro 360,000 years ago, creates a timelessness that touches everyone who visits.
Three nights at Ol Donyo will come to an end too soon, but the Maasai Mara awaits!
The authentic safari camp, Mara Toto is in the style that Karen Blixen and her lover, Denys Finch-Hatton would have adored.
"When I designed this camp, it was based on an original 19th-century styled expedition camp with light canvass and high apex tents, supported by huge gum-poles. Its position, right along the edge of the river and under some of the most spectacular ebony trees, creates a hidden haven to retire between exciting safari drives. Leopards and lions are often heard from here, and this small 8-bed camp is ideal for families, or small parties, explorers, adventurers and photographers." – Dereck Joubert
We couldn't say it better.
Gallery
Itinerary
Day 1
Hemingways Nairobi (1-night)
Hemingways Nairobi, a member of the Small Luxury Hotels of the world, is an elegant boutique hotel situated in Nairobi's Karen residential area with magnificent views of the nearby Ngong hills. Sensitively designed for the discerning business and leisure traveller, Hemingways Nairobi offers the full facilities expected in a modern day luxury boutique hotel. The hotel offers forty-five luxury suites which include the Hemingways suite, The Blixen suite, 19 Executive rooms and 24 deluxe rooms. The Hemingways Nairobi Brasserie serves classic dishes and the very best of local and international cuisine and is open everyday for breakfast, lunch, afternoon tea and dinner.
Day 2 - 4
Ol Donyo Lodge, Chyulu Hills National Park
Ol Donyo Lodge is located on the Maasai-owned Mbirikani Group Ranch, comprising of 275,000 acres of wilderness between Amboseli and Tsavo National Parks and bordering Chyulu Hills National Park. This stunningly beautiful area is incredibly diverse, and often has spectacular views of Mount Kilimanjaro. No other lodge in Africa offers such a wide range of experiences, in such a private setting. As one of Kenya's only two Relais & Chateaux properties (other being sister property Mara Plains Camp), the lodge is perched on a hillside with views of East Africa's classic savannahs below.
The 16-bed lodge is a harmonious blend of contemporary and rustic, merging the landscape into each suite. Designed for a wide appeal, the lodge is a perfect getaway for families, honeymooners or multi-generational groups. What makes it a standout is its notable variety of activities – from cultural visits, good quality wildlife viewing, hiking, horseback riding and mountain biking – ol Donyo Lodge is a place to feel Africa, and get out from behind the wheel. Add to this the lodge's creature comforts of fine dining, massage, infinity pool, star beds and multiple lounges, and it is a place to relax and unwind for days. Wildlife is here, but this semi-arid region does not host the volumes of the Masai Mara area, so the lodge is best paired with our sister properties there, Mara Plains and Mara Expedition Camps. Together, this combination gives guests the most well-rounded and complementary Kenya itinerary.
No two of the lodge's eight suites is exactly the same, but what is consistent is the view to Mt. Kilimanjaro and the lodge's famous waterhole as well as star beds atop each of the suites for sleeping under the night sky. Six of the lodge's eight suites have private plunge pools, and two are connected for a 'villa' concept, with a shared common area and plunge pool, perfect for families or couples traveling together. Constructed of local thatch and gunnite, the suites blend with the environment despite their commanding design. Flashes of bright color interspersed with earthy tones, wildlife photography and local crafts punctuate the open-air layout.
The lodge's main lounge, complete with grand stone fireplace, a small library, inviting open bar and expansive verandah are the place to rendezvous with new friends, and the local staff. The attached dining area as well as the nearby pool lounge/dining is where sumptuous meals are served, and good times abound. The main infinity pool, curio shop and office provide other diversions should exploring the area not be enough.
Most of the lodge staff is from the local Maasai community and keen to share their fascinating culture with guests – it is a treasured chance to learn. Furthermore, the Mbirikani Group Ranch and ol Donyo Lodge are one of the first examples of a community tourism partnership, whereby land is leased from the Maasai by the lodge, providing the Maasai with benefits from tourism and an incentive for conservation. The lodge, and its conservation partner Big Life Foundation, led by Richard Bonham, continues to push the boundaries in innovative community conservation schemes. Every guest of ol Donyo Lodge contributes to these vital initiatives.
EXPERT TIPS
Ol Donyo has two exceptional experiences that are normally strictly limited and cost more at other lodges, if they are offered at all.
STAR BEDS
Make the most of the silent clarity of the nights in the African wilderness.  Sleep under the stars in the elevated open air bedroom that is attached to your suite.  This is the best of two beautiful worlds.  Your large four-poster bed is lit by romantic lanterns, so that you sleep very comfortably under the stars and you have all the modern conveniences in your suite.
Or, you can choose to sleep in your inside bedroom.
WILDLIFE HIDE
If you'd like a break from the excitement of viewing the wildlife on a game drive, you can instead relax in the Lodge's hide and wait for the wildlife to come to you.  You can even have a meal in the hide.
Day 5 - 8
Mara Toto Camp, Maasai Mara
Mara Toto Camp sits in a small bend in the Ntiakitiak River, where the thick forest meets savannah, and just a few kilometres from its sister camp, Mara Plains. Mara Toto is a magical revisiting of the past, drawing from Africa's original explorers' designs and designed for those who search for East Africa's romantic safari era. Here, you will experience the best of both worlds: the intense action of the Maasai Mara ecosystem, as well as the more private 70,000-acre Mara North Conservancy. Mara Toto is a stylish experience and adventure camp unique to the industry and fits the service levels, specialised guiding and design that has become associated with Great Plains Conservation.
It is safari chic with four light and airy, spacious canvas tents, each with en-suite bathrooms where you enjoy piping hot water from huge brass' safari showers' to a chorus of hippos lazing nearby. It is set down low, hidden from lights and noise and any sign of mankind. Under the grove of Africa ebony trees, its humble main area is lit by lantern and candlelit, simple in design, but just enough for all the comforts. This camp's ambience and 'back to the classics' safari design will be a sure hit with private groups and safari aficionados.
Rates
USD 9,929 per person (twin/share basis, not including international flights)
INCLUDED
Accommodation, meals, transfers, flights and services on the basis specifically indicated in this itinerary.
EXCLUDED
All international flights including flights to and from Nairobi.
Anything not mentioned in this itinerary.
Tips and gratuities.
All items of a personal nature.